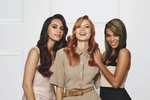 Detangling your client's hair can be a painful experience! Most detangling conditioners tend to come on a little too strong, leaving hair oily and flat. On the flip side, they can be too gentle and result in your hair brush working over time, which can leave you with more split ends than you bargained for. 
Introducing one of Paul Mitchell's cult classics, The Detangler® - one of our original conditioners that continues to be a bestseller and well-loved favourite! The Detangler® gently removes tangles, reduces flyaway-causing static and helps revive bed hair, leaving your hair fresh and full of body. 
Ideal for coarse hair and color-treated hair, The Detangler® from Paul Mitchell easily detangles and replenishes thirsty hair. This super rich conditioner is enhanced with grapeseed oil and carrot extract to help provide instant conditioning, detangling and shine. Time to say goodbye to tearful post-shower brushing sessions!
Why your Coarse-haired Clients Need it
If your clients have thick or damaged hair, it can be difficult when it's time to wash off tint or foils from your colouring service. However, the Detangler makes that a breeze, as it's colour safe, with the active ingredients of carrot extract and grapeseed oil helping dry hair become silky and soft. The Detangler has a delicate floral scent of jasmine, rose and violet with subtle notes of sandalwood and fir needle, leaving your client's hair feeling and smelling beautiful!  
The Detangler is vegan, paraben and gluten free, so will appeal to a wide range of customers looking for "free from" products.  
Start With Their Ends
It's so important when conditioning hair that you comb through starting with the ends - don't pull hair from the root down. Work in small sections when detangling, slowly remove the knots as you work your way upwards. 
Get Handsy
Sometimes no matter how many combs you try there is no better detangling partner than your fingers. If a comb is too painful for your clients locks, start the process with your fingers. By feeling your way through the knots, you can save your hair a lot of damage! 
Read more about everyone's favourite conditioner, The Detangler, here. 
Tip: we stock The Detangler in bottles up to 3.8L making it an environmentally and economically friendly option for your salon!