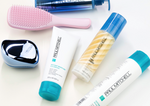 Although it can be difficult to know where to start when it comes to recommending continued haircare to clients, Paul Mitchell has an incredible range of products suitable for every hair type and styling need. The following list includes some of our best sellers, from shampoos and conditioners, to innovative heat protection products that add shine and humidity resistance. Once you try these outstanding products, recommending them to your clients will come naturally! As always, none of our products are tested on animals!
Super Skinny Serum
For 5-star smoothness
A cult classic! The purpose of Paul Mitchell's Super Skinny Serum is to leave hair smooth and frizz-free in all weather. This best-selling blowout primer contains lightweight silicones that condition and seal the hair cuticle to repel water and resist the effects of humidity. Rub one pump into the palms of your hands and apply to clean, damp hair, before drying. This serum will speed up the drying process, so your clients will save time as well as money! Super Skinny Serum is very concentrated, so a little goes a long way, a selling point for any client on a budget.
For optimum results, wash hair with Super Skinny Shampoo and Super Skinny Conditioner before applying this rich serum. Once your clients' hair is smooth, dry, and style as desired, finish with 1-3 drops of Gloss Drops for added shine. Not only does the Super Skinny range make your client's hair look great, it also smells pleasantly fruity. The customer will be asking about the products you've used even before you have the chance to recommend them!
Added benefits: Gluten free, paraben free, and vegan.
Hot Off the Press
Bestselling cult classic
This best-selling thermal protection spray offers flexible style as well as humidity resistance. Rice hull extract builds a lightweight coating around the hair follicle to reduce the damaging effects of heat styling tools, while wheat proteins boost hair's strength. Simply spray Hot Off the Press onto dry hair before using heat styling tools to aid in protecting hair from thermal damage. Re-apply to lock in the finished look and prevent frizz. The delicate floral and citrus scent will complete the allure of this product for any prospective customers. This product is ideal for all hair types, straight or curly, and is a great recommendation for any client who spends time styling their hair.
Added benefits: Gluten free, paraben free, and vegan.
The Detangler Conditioner
Does what it says on the tin!
This super rich conditioner is ideal for clients with coarse and colour-treated hair, and is another of our best-selling products. The Detangler Conditioner is enhanced with grapeseed oil and carrot extract to help replenish dry hair and provide instant conditioning, detangling, and shine. The subtle floral scent has notes of sandalwood that will leave your client feeling refreshed, and ready to flaunt their tangle free hair.
Added benefits: Gluten free, paraben free, vegan, and colour safe.
Shampoo One
The OG!
Shampoo One was one of the first products launched in the original Paul Mitchell line. This shampoo is perfect for the client who wants salon quality haircare that they can use every day, to cleanse and restore balance, for beautiful healthy hair. Massage shampoo into wet hair, working into a lather; then rinse and repeat as necessary. Shampoo One contains Panthenol and wheat-derived conditioners to help improve hair's surface texture and manageability. It's suitable for all hair types and will leave hair clean and shiny with a fresh tropical scent. Suggest a hair-appropriate Paul Mitchell conditioner to your client for a comprehensive haircare routine.
Added benefits: Paraben free, vegan, and colour safe.
Twirl Around
For curly girls looking for frizz-free
If you need to recommend a styling product for a client with unruly curls and waves, Twirl Around cream gel is definitely the superior option. This dual formula of hydrating cream and smoothing gel creates soft, touchable, frizz-free spirals that won't become crunchy or stiff. Apply a small amount of Twirl Around to clean, damp hair. Enhance natural curls by twirling hair around your finger, and air-dry or blow-dry with a diffuser. This vibrant citrus scented product is a great option for clients who want defined curls without any hassle.
Added benefits: Paraben free, and vegan.
Marula Rare Oil Intensive Masque

Touch of luxury with world-class ingredients
Smooth and soften dry, coarse hair with Rare Oil Intensive Masque from the Marula Oil range. This replenishing mask is infused with cold-pressed marula oil and is packed with powerful antioxidants and oleic acids to nourish and protect hair. The intensely hydrating formula seals split ends, prevents moisture loss, and provides UV protection.
If hair is especially dry, apply the mask overnight and cover with a shower cap or silk scarf. Rinse out in the morning for extra silky, soft hair, with an exotic floral and citrus scent and a sensual base of cedarwood. This mask is the perfect treat for any customer who prefers to sit back and relax while their haircare products do the work.
Added benefits: Paraben free, vegan, colour safe.
Moisture Shampoo & Instant Moisture Conditioner
Drench your hair with this dynamic duo
The combination of Instant Moisture Shampoo and Conditioner is great for clients with dry hair. The Instant Moisture Complex provides superior conditioning and UV protection, and helps shield vulnerable hair from the sun, while panthenol adds body and helps repair damage from the inside out. Massage the fresh fragranced shampoo into wet hair, rinse, and repeat as many times as necessary to effectively cleanse and hydrate locks. Follow with Instant Moisture Conditioner to improve the elasticity of each strand and fortify brittle hair to reduce breakage. Apply a small amount to clean damp hair, rinse, and style with the added manageability and shine afforded by these products. Instant Moisturizing Shampoo and Conditioner contain soy proteins and shea butter to help strengthen and hydrate moisture-starved strands.
Added benefits: Gluten free, paraben free, vegan, colour safe, and UV protection.
Awapuhi Moisturizing Lather Shampoo
A Hawaiian holiday for your hair
The story of Paul Mitchell's Awapuhi range is just as intriguing as the product itself, and well worth explaining to any prospective customers. The valuable juices of the Awapuhi plant were traditionally used by the Hawaiian people to make their hair soft and shiny. In 1982 our co-founders established a self-sustaining, solar-powered Awapuhi farm in Hawaii, and the Awapuhi used in our products is still harvested there today. Awapuhi Moisturizing Lather Shampoo combines the traditions of native Hawaiians, and the modern technology used in the development of the exclusive KeraTriplex Keratin protein blend, to replenish every strand for healthy-looking hair.
This best-selling product is sulphate free and ideal for colour treated hair. The natural Awapuhi extract balances moisture and is perfect for reviving dry and damaged hair. It's also gentle enough for the avid hair washer who can't go a day without washing their hair, despite your recommendations. Massage into wet hair to gently cleanse and protect hair colour, while repairing dry and damaged hair. This shampoo forms an ultra-rich lather with an exotic scent of ginger, green tea, and floral notes. Rinse and repeat as necessary. Follow with a colour safe product such as Keratin Cream Rinse Protein Conditioner.
Added benefits: Paraben free, sulphate free, colour safe.
Freeze and Shine Super Spray
For locked and loaded looks!
Last but certainly not least, Freeze and Shine Super Spray is a maximum hold finishing spray that's a great suggestion for people with coarse hair as it provides powerful hold and memory. Lock in any look and add shine by misting this easy-to-use spray onto your client's finished hairstyle. It's also very versatile and great for creating a wet look. This product is made with firm-holding styling ingredients and leaves hair smelling fresh and ready to show off.
Added benefits: Gluten free, paraben free, vegan.
We hope this helps to clarify the benefits of a variety of Paul Mitchell products, so that you can be confident when recommending haircare options to your clients.
Tailor your suggestions to their hair type and needs; or better yet, use the products on your client's hair so that they can experience the results first-hand! It's great to develop trust with the person sitting in your salon chair; to ensure that they become loyal customers, and potentially promote your work through word-of-mouth. This assurance starts with producing quality work using exceptional products, and ends with recommending suitable products for the maintenance and longevity of your client's fresh locks.
Ultimately, our products are developed with effectiveness in mind, and are made with innovative ingredients, to produce the best results that will speak for themselves.