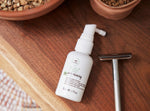 A healthy scalp is always in style. But the latest haircare trends are always changing. We have rounded up some of the most popular current trends in scalp care. Whether you're looking to prevent thinning, combat dandruff, curb hair loss or maintain all-around scalp health, there's a growing trend aimed at targeting your concerns. One thing that's always on-trend? Consulting your professional hairdresser. 
1. Masks Are for Hair, Too
We've reached peak masking—and we're not mad about it. Next time you're coating your face in your favourite combo of clarifying and detoxifying face masks, show your hair a little love. Though they're not as instantly Instagram-able, people are increasingly embracing hair masks for their many beneficial properties. The right hair mask—like our Lavender Mint Deep Conditioning Mineral Hair Mask—can help strengthen and hydrate moisture-starved strands. Healthy hair is always double-tap worthy in our book.
2. SPF—the Old Friend That's Got Your Scalp Covered
Yes, sunscreen isn't a new concept. If you're skincare savvy, you've likely slathered your face and body with a cocktail of vitamins and a suitable layer of SPF every day—but what about your scalp? Bad news: your epidermis is still showing. That's why skincare champions are now making a point to advocate specifically for the protection of the oft-forgotten scalp. Any part in your hair or otherwise exposed scalp is susceptible to sunburn and sun damage, just like the rest of your skin. Simply spritzing your scalp with a product offering UV protection—like Tea Tree's Lemon Sage Thickening Spray—can help prevent sun-related cancers and damage that leads to hair loss.
3.  Say "Hey" to Multi-Step Hair Care Systems
Good news: effective multi-step systems aren't limited solely to your facial routine. And, no, we're not talking about your typical shampoo and conditioner duo. Beauty lovers are pairing their derm-prescribed or self-curated K beauty facial cleansing systems with multi-step hair care regimens. Keep your scalp in line with effective hair care systems, like our Scalp Care Anti-Thinning Regimen, which in an independent clinical study, increased hair volume and strength in 85% of users. Dr. Amy Rose highly recommends the Scalp Care system because it "helps to prevent breakage, increase strength, and make hair look and feel thicker."
4. Staycation with Scalp Massages and Gentle Exfoliation
Give your scalp a mini spa day. A growing scalp trend, you may have seen scalp exfoliation how-to's floating through your social feeds. Before starting any new routine, we recommend consulting your dermatologist to learn what's best for your skin and to understand the proper technique. But, a gentle scalp massage, paired with a nutrient-rich treatment like the Tea Tree Scalp and Hair Treatment, can be a great way to moisturise, nourish and relieve oily build-up from your scalp.