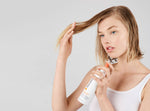 You've spent money and time visiting a salon for a gorgeous hue. To help protect your investment, the hair colour experts at Three Six Five Salon Group offer these tips to help you fight the fade and keep your hair colour true.
Wait 48 hours before shampooing
After colouring your hair, wait at least two days (three to four is even better) to shampoo. This gives the hair shaft time to close so the colour doesn't rinse out right away.
Choose the right shampoo and conditioner
By using colour-safe products, you ensure the shampoo/conditioner was made to keep your hair colour-safe, extending your shade's life and vibrancy. Find the best shampoos and conditioners for coloured hair here.
Use a colour-safe dry shampoo in between washes
Shampooing your hair daily can cause the colour to wash out faster. Keep hair looking and feeling fresh on your no-shampoo days with a product that's safe for colour-treated hair, such as Dry Wash®.
Nourish strands with a hair mask
Pamper colour-treated locks once a week with a deep-conditioning treatment such as Ultimate Color Repair® Mask to add moisture back.
Protect colour from heat
Keep hair colour safe from the damage that can be created by using heat styling tools and from exposure to the sun. One to try: Color Protect® Locking Spray.
Extra care for red hair
Did you know that red hair fades the fastest? It's because red is the largest hair-colour molecule, making it difficult for red hair dye to penetrate deeply into strands. 
Save blonde tones with purple shampoo
Blonde hair dye has a tendency to go brassy. Opt for violet-tinted products such as Platinum Blonde to cool brassiness and eliminate warmth.
Refresh your colour in-between colour services
Ask your stylist for a gloss treatment at your local Paul Mitchell® salon or a customized take-home treatment with Color Craft™—a customizable colour conditioning system that your stylist mixes for you.