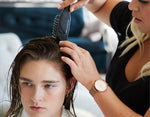 Artistic Director Heather Ka'anoi gives us the lowdown on the latest product innovations and her styling tips for the limitless possibilities of the Invisiblewear® Collection.
What are the biggest differences between Cloud Whip, Velvet Cream and Air Gel?
I worked with these products while they were in development and it was important for them to fit within the line and, also stand alone. The biggest difference you will notice with all three is the surreal feeling of the transformative formulas. They are like nothing else we've done before! 
How do these products fit into the complete Invisiblewear® line?
These three new stylers take relaxed, lived-in looks to the next level. The soft, touchable textures allow for limitless styling possibilities. 
When do you use Invisiblewear® on a guest? What do they love about it?
I have a full range of clients, so what I love about this line is that it gives everyone a youthful look, no matter their age. They love the scent and how touchable their hair feels. Sometimes I use the Dry Shampoo and Undone Texture Hairspray on my guest before I start a service. I like to give them an idea of how Invisiblewear® can extend their style on day two or three, after they leave the salon—and they love it!
Any secret tips about the line you would like to share?
Undone hair does not always have to be perfect beach waves. I love using Volume Whip® on my guests with natural waves to enhance and naturally diffuse the texture. Memory Shaper™ is also great for prepping curly hair before a cut to keep curls soft, shiny and manageable.