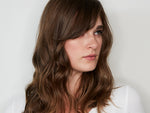 GET SECOND-DAY HAIR ON DAY ONE
Professional stylists know that hair that's not freshly washed has a workable texture that makes styling so much easier. But what if you prefer not to go a day without shampooing? There's a complete line of hairstyling products that can help you fake the appearance of second-day hair. No matter what type of hair you have, here's exactly what to use in order to create the relaxed, lived-in looks everyone desires.
Smoothing Cream to De-Shine 
Hair that's just been washed is typically super-shiny. Use a smoothing cream like Velvet Cream to tone down some the shine and give hair a second-day effect. 
Try Invisiblewear® Velvet Cream
Lightweight Hair Gel for Short Hair 
The easiest way to make short hair look effortlessly messy and chic is with a lightweight hair gel like Air Gel. Apply it with your fingers for a tousled effect that has volume and piecey texture. 
Try Invisiblewear® Air Gel
Styling Cream for Dry Hair 
Dry hair types can achieve texture that looks undone without frizz by using a styling cream like Cloud Whip that conditions, controls and defines hair. 
Try Invisiblewear® Cloud Whip
Texture Hairspray for Flat Hair 
In order to give hair that has a tendency to fall flat lived-in texture, you need a product that adds body and grip like Undone Texture Hairspray. 
Try Invisiblewear® Undone Texture Hairspray
Mousse for Fine Hair 
Fine hair that's squeaky clean won't hold a style. Create the illusion of a day-two do with Volume Whip®, a mousse that whips up airy volume and holds your hairstyle in place no matter the weather. 
Try Invisiblewear® Volume Whip®
Texture Powder for Ponytails and Braids 
Pump Me Up™ texture powder adds incredible grip that helps pull the hair up at the roots when creating a ponytail and gives hair piecey texture that makes braiding easier. 
Try Invisiblewear® Pump Me Up™
Hairspray for Brushable Texture 
Mimic a few days of wear with scrunched-up texture that still allows for brushing. Orbit™ Hairspray boosts volume and tames flyaways while finishing styles with beautiful brushability. 
Try Invisiblewear® Orbit™ Hairspray
REFRESH + EXTEND YOUR STYLE THROUGHOUT THE WEEK
And if you decide not to shampoo, there are products for you, too.
Revive a Range of Hair Colors with Dry Shampoo 
Leave hair feeling clean and fresh and extend style between washes with Blonde and Brunette Dry Shampoos. These super-fine tinted mists absorb oil with undetectable coverage.
Resuscitate a Blowout with Restyling Mist 
Second-day hair can lose its body and vibrancy and Boomerang Restyling Mist® helps bring it back to life.
Wake Up Curls with Shaping Lotion 
Whether you have coils, curls or waves, Memory Shaper™ can help reshape and restyle them, restoring their natural bounce.
Discover the signature line-up for second-day style, Invisiblewear®.