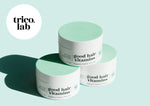 One of the great things about the hairdressing industry is the relationships that hairdressers form with their clients and the resulting trust that they have in you. However, there's no doubt many of you would have had clients who expect you to work miracles with your scissors and tubes of product - magically turning dry, brittle, unhealthy hair into lush, glossy locks!
A great cut, good colour and professional hair care products can make a massive difference to clients' hair, but similar to a healthy plant, a client's scalp and hair follicles need to be nourished and looked after to grow healthy hair in the first place.
This is where trico.lab Good Hair Vitamins come in.
Offer your salon guests clinically tested solutions to improve their hair health. Good Hair Vitamins have been formulated specifically to assist with improving the quality of hair grown. Taking Good Hair Vitamins means that results after a cut and colour will be far superior.  Your clients will notice the difference. Clients who take the one-a-day capsules in conjunction with trico.lab tea blends will get a supercharged boost to the quality of their hair.
With tested benefits and TGA listed by the Australian Department of Health, Good Hair Vitamin ingredient's efficacy is supported by clinical studies.
Feel confident knowing that your clients can get the same amount of the 7 ingredients in ONE capsule as they would get from the consumption of a cup of broccoli, 21 cups of carrots, 10 cups of spinach, 12kg of bananas and 2 cups of nuts! It is a very efficient and effective way of getting the right amount and type of nutritional requirements to boost hair health. One capsule a day provides:
Vitamin C which supports collagen formation
Biotin, Silica and Zinc which support follicular health
Selenium which helps protect cells from free radical damage
Anti-oxidant support
With 56 one-a-day capsules in each jar, supply lasts 8 weeks coinciding with clients returning back to your salon for a repeat purchase.
Get your share of the $2billion dietary supplements industry and offer Good Hair Vitamins to your clients today. Not only will you drive additional income for your salon, your client's hair will benefit too.