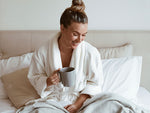 Have you really given your scalp the TLC it needs this winter? Even if you live in a destination like Queensland, where the shift in seasons from autumn to winter may seem minor, the seasonal change still calls for a major skin care overhaul. Dry weather leads to dry skin, and dryness-prone skin requires added maintenance. Your scalp, a significant part of your skin, is no different.
If you're like most people, your scalp probably isn't getting the attention it deserves, especially in these dry winter months. We'll help you change that. We may be well into the new year, but it's never too late to resolve to make healthy changes. Here are a few ways you can easily keep your skin and scalp healthy in winter (and beyond).
Tea Tree Oil—Our Scalp Care Hero
Tea Tree Oil, or Melaleuca alternifolia oil, has many healing properties—including the ability to reduce irritation, flakiness and itchiness. Since all the products in our Tea Tree line contain tea tree oil, they're natural choices for preventing or treating an itchy, dry scalp in winter months.
Dealing with Dry Scalp and Dandruff in Winter
Dry winter weather only exasperates conditions like dandruff. Thankfully there are easy ways to soothe itchiness and flakiness. Our best shampoo for a dry scalp or dandruff? Tea Tree Special Shampoo. There's a reason a bottle of Tea Tree Shampoo is a best seller! Outside of its calming and cooling signature tingle, it's our best shampoo for people prone to a dry, itchy scalp or dandruff. One of the most popular and effective ways to treat dandruff is through anti-fungal treatments—which, tea tree oil is known to be. So, lather up with Tea Tree Shampoo to help curb your winter woes.
Giving Your Scalp a Little Extra Care
If your scalp demands more TLC, press the reset button with Tea Tree Hair and Scalp Treatment, which will help revive dry strands and a dry scalp by replenishing moisture. Packed with soy protein, shea butter, vitamin E and panthenol, this tea tree-rich hair and scalp treatment will help soothe troubled skin post-shower.
Care Specifically for Curly Hair (and Your Scalp!)
In drier months, curly hair can especially use a little extra love. And while a good moisturizing shampoo and hair care regimen is important for curly hair year-round, it's especially key in winter. Replenish moisture to dry, textured strands while simultaneously cleansing and soothing the scalp with Tea Tree's Lavender Mint Moisturizing Shampoo, designed specifically for curly hair.
Preventative Scalp Care Picks
Want great preventative picks? The Scalp Care Anti-Thinning Tonic does so much more than just help prevent hair fall. This preventative tonic, and products in the full Scalp Care line, are infused with our exclusive Regeniplex® botanical blend, that helps stimulate the scalp and create an ideal environment for thick, healthy hair. So, grab the tonic and promote healthy scalp choices all year round.
Winter Repair for All Hair
A healthy scalp pairs well with healthy, hydrated hair. Another great product to have in your winter arsenal? The Tea Tree Hair and Body Moisturizer. This champion multi-tasker not only hydrates skin with jojoba seed oil, but also can be applied to clean, damp hair to deliver extra moisture to dry strands and prevent dry winter weather from wreaking hair havoc.