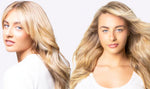 As we breeze into the midst of Autumn, it's time to embrace the emerging trends of the season. From the humidity in the air to the swift cool changes, Autumn in Australia represents a transition in lifestyle and your hair routine. With exciting seasonal obsessions on the rise, like 70's inspired fringes and warm, bold hair tones- it's time to focus on how you can manage your hair in these cooler months.   
SHAPES & COLOURS OF THE SEASON 
The 70's called and Farrah Fawcett inspired face framing is back!
Embracing this years' Autumn looks can be as easy as adding texture with a face defining cut. The evolution of curtain bangs is in full swing, with an emphasis on textured layers and subtle flicked out fringes.
For a modern Farrah inspired face framing style be sure to check out the new Clean Beauty Stylers!
While in the world of colour, we are throwing caution to the wind and embodying the creative colours mother nature inspires in these cooler months!  This season you will see beautiful warm, dark tones, and, like an autumn leaf, subtle variations to natural colouring. Coppers, auburns and gingers are red hot right now, while blondes are embracing the changing season with temporary tonal shifts. 
 Customise your colour with Paul Mitchell's The Color XG 
We are also seeing classic tones cooled down, pastelised and individualised. Whether it's for the long haul or just a weekend, your hair colour can be your greatest accessory. If you're looking for a temporary change of colour, using a demi permanent solution, such as Paul Mitchell's The Demi, gives you the ability to transform your beach blonde to a punchy peach without the commitment.
From all over toners and metallic pops of colour, to seamless root shadows, The Demi portfolio has all the shades you need to bring your vision to life.  
For a seasonal colour change without the commitment, Paul Mitchell's The Demi is your go-to!
Subtle changes can make all the difference to the richness of your colour. Allude to dimension by using a gentle cream lightener with the trending baby lights technique to increase lift or enhance your foundation. When we think of post summer colour changes, we need to consider hair condition as a priority! Paul Mitchell's SynchroLift Soft, is THE cream lightener to give you the 7 levels of lift you need without compromising the integrity of your hair. 
Synchrolift Soft- the cream lightener that gives you the perfect lift without compromising your hair health! 
HYDRATION & REPAIR   
The cooler weather has us dreaming of those sunny summer days. What might feel like a distant memory, certainly isn't for your hair! Extended exposure to the sun and water can have a drying effect, causing hair to feel straw-like and even leading to split ends. Be sure to combat this by updating your seasonal care regime with products that will hydrate and add strength to your hair.   
Hydration is the first step to repairing damaged hair, and this starts in the salon. Think of your hairdresser as a hair doctor, they have the knowledge and expertise to prescribe the perfect mix of products to specifically address all your hair needs. Creating a professional care program begins in the basin so kick start your journey and invest in your hair health with an in-salon treatment that focuses on a supercharging moisture and boosting protein, such as adding the Paul Mitchell Clean Beauty Hydrate Shampoo and Hydrate Conditioner  to your regime. 
Before and after results of the Clean Beauty Hydrate Duo
We are big believers in a home maintenance program, so here are our at home hydration must-haves to quench the thirst of those summer damaged locks and prevent the drying wind from raining on your (hair) parade.   
When it comes to hydration your go-to in-salon treatment is the Awapuhi Wild Ginger HyrdraTriplex. The triple-action technology not only moisturises strands but restores the hair with proven ingredients such as amino acids, vegetable proteins and nourishing oils to soften and manage dry, frizzy hair. Paired with the Awapuhi Wild Ginger Moisturizing Lather Shampoo and Keratin Rinse, this dynamic treatment and cleansing combination is perfect for maintaining a healthy canvas.  
For those looking to repair and rebuild damaged hair, look no further than the Awaphui Wild Ginger KeraTriplex. This trademarked technology is a must for transforming your crown from dull and lifeless to naturally silky and smooth. Rebuilding your hair from the inside out, the Keratriplex transforms broken and brittle strands by replenishing isolated proteins and future-proofing your hair against further damage.   
DEEP CLEANSE 
A deep cleanse shouldn't be reserved to spring. While frolicking at the beach, smothering ourselves in sun cream and letting our locks run wild has been our summer priority - Autumn is all about restoration! Bring your hair back to its natural state with a professional deep cleansing shampoo.  
The Paul Mitchell Shampoo Two is a must have for clarifying your hair! It's colour-safe formula is designed to remove the build-up on the outside of your hair shaft, leaving it squeaky clean. As a go-to for those with fine strands, the unique lemon-fresh fragrance minimises the production of oil on the scalp, while assisting in building body and removing oil weight.
For those who double cleanse, following this with the Paul Mitchell Instant Moisture Shampoo is a great way to add moisture during the second cleanse, while finishing with the Instant Moisture Conditioner  ensures strands stay shiny and manageable. 
Give your hair the boost of moisture it's begging for post cleanse with the Instant Moisture Duo
THERMAL PROTECTION  
As we are swept into the cooler months, it's time to bring out your blow dryer and prepare with products that will speed up your dry time and protect your tresses from damaging heat tools.   
It's well known that prevention is better than a cure. And there is no better way to minimise the damage inflicted by drying tools, like hairdryers and straightening irons, than investing in hair care products that offer a level of thermal protection. The best-selling Paul Mitchell Hot Off the Press Thermal Protection Hairspray gets the beauty editors' votes for the ultimate all-rounder hair spray. With a light hold, this incredible product is applied to towel-dried hair before blast-drying, smoothing or curling, to create a thermal shield.   
When it comes to protecting your hair against high temperature tools, the latest addition to the Paul Mitchell Clean Beauty Collection, Clean Beauty Heat Styling Spray, has your back. Made with 93% natural origin ingredients, this non-aerosol hairspray protects hair during heat styling whilst adding a light hold and natural shine. 
For those always on the go and looking to simplify their dry routine, it's time to get yourself a VOLO Beauty Hair Hero Towel. The super-absorbent, nanoweave™ hair towel is the ultimate in hair turbines. Wrapping your wet hair post-shower in the Hair Hero will help to decrease your dry time by up to 50%, while the built-in snug strap ensures your towel stays securely tucked into place.  
ANTI-FRIZZ  
Creating a smooth, frizz-free finish isn't as easy as it sounds, especially when the Autumn humidity is added into the equation. To overcome nature's seasonal gift of rain, we recommend adding a leave-in treatment into your beauty regime. Smooth those stray strands with the Paul Mitchell Clean Beauty Anti-frizz Leave-in Treatment. Just as the name suggests, this award-winning, organic almond oil and hyaluronic acid enriched conditioning cream helps smooth your hair, preventing frizz and protecting against humidity. Making your hair more manageable and easier to style with every use.   
Get rid of the frizz and enhance your curl pattern with the Clean Beauty Anti-frizz range
Free yourself from those sneaky fly-aways by incorporating a light hold and conditioning into your drying routine. Knowing we are looking for a natural finish to our hair this season, Awapuhi Wild Ginger HydroCream Whip Mousse is another great styling product. Applied to damp hair, this product is the key to preparing for any excellent round-brush blow wave. Packed with moisture, this light hold styler is great for building volume in the hair while imparting moisture to both styled and air-dried looks.
For a finish as smooth as glass and a decrease in your drying time, look no further than the Paul Mitchell Super Skinny Serum. Voted as one of the best serums on the market, the Super Skinny Serum is hands downs the secret to making your hair look, feel and smell amazing. Apply the product by layering it into wet hair to expel water and speed up the drying process. Or apply to dry hair for a super soft and shiny frizz-free appearance.   
HAIR GROWTH & SCALP CARE  
We know that beauty comes from within, however, inner beauty doesn't only relate to the soul; it also accounts for nutrition and its critical role in our health. When it comes to hair health, we see a growing trend in nutrient-based supplements. These products aim to complement a balanced diet and provide nutrients that specifically target your hair health.   
Trico Lab Good Hair Vitamins are the hair vitamins recommended by hairdressers. These daily supplements are designed to improve your hair and scalp health, as well as address dry skin and dandruff, hair breakage and thinning. Supercharge your health this Autumn and aid in collagen, elastin and keratin production with these results driven hair, skin and nail vitamins.   
Real results of the Trico.Lab Good Hair Vitamin
We all love a bit of magic, and no more incredible illusion of thick and lustrous locks is created than when using Tea Tree Lemon Sage Thickening Spray. Ideal for fine hair, this addition to your styling regime is a great way to create a fuller and thicker appearance. We will be seeing a lot of layered volume this Autumn, and this is a perfect lightweight style booster solution for pumping up skinny strands and giving hair more control with a no-product feel.   
This Autumn redefine who you want to be! Whether it's through striking colour changes, shape defining cuts and styles or rejuvenating treatments, harness what's trending this season by elevating your home maintenance routine.