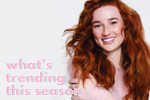 With spring in full swing and summer just around the corner, it's time to brighten your hair out of hibernation. The last fortnight has seen us reflecting on the importance of the lightening process and nailing transition shades.

STRAWBERRY TONES
To kick start we began with a walk through on how to achieve the perfect strawberry blonde with Heather Walters. Going lighter doesn't always mean cool tones and ashy colours. Bring in the brightness by incorporating gorgeous golds and gingers.
Products used: Crema XG, Pop XG and Color XG


BLENDED BEIGES
Whether you're looking to blend a balayage or develop more depth, the addition of subtle beiges can really give your locks life. Colour specialist Toby Price spoke to this mantra as he showed us how to create beautiful natural blonde tones using The Demi beiges.
Products used: The Demis


QUICK DIMENSION
With restrictions varying, time with clients is limited. Effortless is in. Kelly Rettenberg took to our virtual stage to showcase how easy it is to add dimension in a short period of time.
Products used: Coversmart, The Demis
SNEAK PEEK
The future is now! In a time when salon sessions are reduced, we must think outside the square to keep up to date with our clients. Listen up as Clinton Norris discusses the evolution of consultations and what you can do to maintain and build your customer base. Tune in on Wednesday to find out more...

DON'T MISS OUT
For more tips and tricks from the industry's best check out the 365 Salon Group Education Hub and be sure to follow @365salongroup and @paulmitchellaus on Instagram and Facebook!