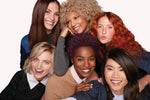 Here at the 365 Salon Group we are continually trying to find ways to best support you, our loyal customers. After the year that was 2020 we now, more than ever, feel more aligned with our customers and the care they provide our greater community. We recognised the opportunity to enhance our level of service through a Brand Ambassador Program which complements the care you extend to your salon guests.
What is a Brand Ambassador?
Fun and fast-paced, the Paul Mitchell Brand Ambassador program is perfect for those digitally-savvy stylists who want to champion the Paul Mitchell brand, whilst raising their online profile - bonus! 
As a Brand Ambassador you'll receive regular invites to virtual meetings where you will have the opportunity to connect with the best in the biz, the Global Artistic Team at Paul Mitchell. You'll also get to connect with some of the most influential people in the industry to ensure your knowledge as a stylist and ambassador is always on point.  
What do Brand Ambassadors do?
On social media, our Ambassadors create regular content using their favourite Paul Mitchell products, showcasing their latest and greatest looks. In exchange, we promote you on our socials, offer you networking opportunities which will connect you with some of the best in our industry, offer fun bi-monthly competitions (which include prizes - of course), exciting events and who could forget, you'll be given the opportunity to widen your knowledge more than ever before. 
In-salon, these stylists are the product and brand gurus. They are the go-to stylist for knowledge and know the right product for the right result for their salon guests, no matter the request. 
What are the perks of being a Brand Ambassador? 
The Brand Ambassador Program will raise your online profile as a stylist, and boost your CV with ambassadorship recognition from Paul Mitchell.
As a Brand Ambassador, we admire your talent and respect your input. You will be the first to enjoy opportunities to try new products (yes please) and will be invited to share your personal experience and feedback. 
As hairdressers, we love to collaborate! Brand Ambassadors will receive invitations to special virtual events where we aim to continue to develop your confidence, knowledge and skills. Through the events, you will be connected with the Paul Mitchell Global Artistic Team along with the most in demand industry influencers to inspire you with the latest trends and technological advancements to arrive on our shores. 
If this sounds like you and you would like to become a Brand Ambassador, follow the below steps, we can't wait to see your application!
Fill out the form through

this link

answering why you want to be a Brand Ambassador

On the application, upload a video created featuring your favourite Paul Mitchell products

We will notify you if you have successfully become part of the Paul Mitchell Brand Ambassador Team in Australia! Good luck!