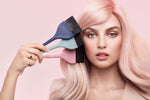 We're sure you've all seen us teasing a new brand launch on our socials, the latest new and exciting brand to join our catalogue is Fromm. Fromm is a leading brand when it comes to luxury tools and accessories in the professional hair industry.
Fromm's Color Studio professional range is a luxury range of tools and accessories boasting the latest technology, high-quality materials as well as superior craftsmanship and design for unparalleled performance. The range is finished with a fresh pastel colour palette, so stylists have the best tools to fully carry out their creative vision in style!
Fromm products are instrumental to hair stylists in making their clients look and feel beautiful. True to this goal, Fromm has a mission statement of 'Finding Better Ways to Create Beauty'. Their aim is to make your job as a stylist that little bit easier.
For 105 years, Fromm has been a family-owned company. Originally razor strop were made by hand in their dimly lit warehouse, these strops were used by barbers and men at home to "renew" the edges of their straight razors. Today, instead of all the work being done by hand, thousands of boxes of inventory are held in their seventy thousand square foot HQ. 
Fromm has continued to grow and evolve over the past 100+ years and it shows. With simple fixes to long term problems such as deeper mixing bowls which result in less splatter to colour brushes which are not only easy on the eye but can blend the perfect balayage faster than you can say balayage. 
Fromm is inspired by artistry for artists. Fromm celebrity stylists who remind them to dream big to the local stylist who makes a difference in their community stylists are at the heart of everything they do. With a new team bursting with ideas, they're ready for their next chapter with a nod to the past.