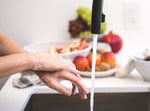 These last few weeks have taken many of us into a situation that we have never faced before, and one that lacks clear answers. In order to help you navigate your way, the team at the Three Six Five Salon Group have compiled a checklist of items for you to consider.
As you would be aware, we are not experts in this field, and we do not profess to have the answers or solutions – We hope you find this checklist useful (we've used it ourselves for planning) with links on where you can go to seek more information or clarity, should you need it. 
Above all, in times like this, we need to support each other.