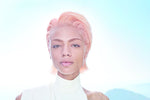 Pre-toning is one of the latest trends that hairdressers in the know are using in their salons every day to achieve superior colour results for their guests. But what actually is pre-toning and how do you know when to pre-tone or not? Plus, if you do decide to pre-tone, how do you do it?! Worry not! We've got all your pre-toning queries answered below by our expert, Stephanie Gelston, Head of Education at Paul Mitchell Australia. 
When do I pre-tone a salon guest's hair?
There are many reasons why you can benefit from pre-toning a salon guest's hair. For instance:
When your desired target colour is on the cooler side of the colour wheel
If your guest wants a fashion tone
To create a better blend
Pre-toning ensures underlying dominant pigment will not disturb your toning end result
For guests that find their toners fade quickly
How do I explain pre-toning to my salon guest?
So you've decided you want to pre-tone your salon guest's hair - great! But how do you explain adding this extra (but worthwhile!) step into your guest's treatment? We advise:
Firstly discussing the benefits of pre-toning, taking into consideration the salon guest's challenge from the above list
Explaining that pre-toning is like applying a base coat of colour to begin the neutralisation process. The top coat (or second application of colour) will create their customised blonde result. By having back to back applications of colour during the service, the salon guest will experience increased longevity, customised tone and more shine.
When you have explained the above, it will reassure most salon guests in need that this extra step will benefit them.
How do I pre-tone hair?
The process is relatively simple but the results can be outstanding. We advise:
Lighten hair to desired level
Assess the underlying dominant pigment (yellow, yellow/orange, orange, red/orange), refer to the colour wheel to select neutralising tone. Mix, apply and process accordingly.
Rinse and complete a light shampoo. If the hair is sensitised or tangly, condition with a light conditioner, detangle and rinse.
Select your target colour, mix, apply and process accordingly.
Once processing is complete, rinse, complete a light shampoo and condition or treat. Style accordingly and...viola, your salon guest will be left with a beautiful blended colour they will love.
Steph's top tips when pre-toning!
There are some extra things to consider when pre-toning that can help you with this process.
Using an express toning product like

 

Paul Mitchell Flash Toners

 

will allow you to pre-tone in less time, as they process in 2-10 minutes. 
Using toning products that are ammonia and MEA free will ensure there is no risk of lifting the natural hair colour during the toning process.

 

Paul Mitchell The Demi

 

is perfect to achieve this. 
Consider adding pre-toning to your salon service menu as a toning upgrade for guests that require this extra step.
This new Paul Mitchell how-to video utilises pre-toning to offer maximum neutralisation on hair that is being lightened from level 2 to 9:
Looking for some extra information on pre toning? Contact us here to speak to a pre-toning expert.