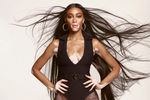 Earlier this year it was announced that America's Next Top Model contestant and world-famous model, Winnie Harlow, would become Paul Mitchell's first ever global ambassador.
Join us as we celebrate the power of self-expression. 
Winnie Harlow is a Canadian fashion model and public spokesperson on the skin condition vitiligo. As an advocate for redefining what's beautiful and as our first-ever Global Ambassador, Winnie will inspire you to discover your best self. With the help of her long-time stylist and Paul Mitchell Brand Ambassador, César DeLeön Ramîrez, Winnie shows how changing your hair – from a power pixie to a crown of curls – can change your whole outlook.
Behind the Scenes
Spending her childhood in the salon, Winnie watched her mom not only transform her guests' hair, but also their lives. Winnie was ostracized for her differences as a child but once she embraced her uniqueness, she found the courage to pursue her dreams of becoming a model and spokesperson for others with low self-esteem.
Today, Winnie is a true style chameleon who exudes confidence with every hair flip. Winnie Harlow x Paul Mitchell shows you there are no limits to the power of your individuality when you express yourself through style.
Like Winnie, Cesar's hair story also began in his mother's salon, and as a 25-year veteran in the industry, he's worked with every recognizable head in Hollywood. He brings his artist perspective, which is in perfect harmony with Paul Mitchell's commitment to supporting hairdressers with the products, tools and inspiration to help their business and artistry thrive.
What can you look forward to? 
With such an incredible team behind the collaboration, there's no shortage of great advice and inspiration. Keep an eye out on our Instagram for all of the iconic Winnie Harlow looks including the iconic shag and Cesar's favourite products so you can recreate the looks yourself!