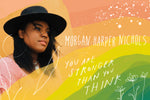 Leading up to the holiday season is an exciting time in the hair care industry, and even more so for John Paul Mitchell Systems. This year they welcome Morgan Harper Nichols as the creator behind the artwork for their 2021 holiday packs. 
Morgan Harper Nichols is an artist, musician and social media influencer. Her art and platform inspires many to explore their relationship towards gratitude, self-love and mindfulness. 
Morgan describes her work as being "inspired by stories, conversations, and every day. I see art-making as a way to connect with others, stay curious, and grow in empathy." You can find Morgan's art in her shop Garden24 or on her app Storyteller. Morgan is well known for her collaborations with a wide range of brands including Coach, Adobe, Vogue Singapore and Aerie. 
Giving back has always been a core value of JPMS and this year's holiday campaign makes no exception. Collaborating with Morgan to create a beautiful mural for the Sheridan Street Elementary School, JPMS also partnered with Baby2Baby, a non-for-profit organisation in America, to distribute back packs full of school supplies to children in need. 
Give with heart this holiday season and join Morgan's artistic journey with Paul Mitchell by checking out their socials @paulmitchellaus & @morganharpernichols and following the campaign hashtags #MHNxPM #GiveWithHeart.