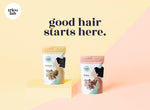 Over the years we bet you have heard many a client talk to you about their hair health and how they can improve it!  At Three Six Five Salon Group we believe hairdressers, as trained professionals, are the best people to offer salon guests the right advice and expertise regarding their hair health.
As many of you already know good hair starts with good health. And good health starts with good nutrition.  A healthy scalp, which is where healthy hair will thrive, is at its very best when properly nourished but the necessary vitamins to keep the hair & scalp in optimal condition are sometimes difficult to obtain through a regular diet alone.
Good Hair Starts here.
Introducing trico.lab organic hair health herbal teas:
Organic
Naturopath approved
Made in Australia
Caffeine free
Developed by hair experts for hair professionals, trico.lab products are designed to work alongside hairdressers and the professional haircare products used in salons. Our first products consist of 2 herbal tea blends which provide a select formula of vitamins and minerals to specifically support hair health. Able to be served to your clientele to enhance your salon experience, trico.lab tea blends are also available in retail packs for your clientele to enjoy at home.
hair detox tea
With a delicious refreshing mint flavour, and subtle lemon undertones, this blend is aimed at those looking to improve the general health of their hair as it helps to condition, revitalise and repair damaged hair. Contains a unique blend of vitamins, minerals and anti-oxidants which aid in the detoxification and healing of hair follicles and also supports thickening of dull or thinning strands (reducing hair breakage and split ends) and increasing hair elasticity to improve luster and shine. May also help to reduce dry scalp and dandruff, and reduce hair shedding caused by stress or tension.
trico.lab organic hair
regenerate tea
A delicious herbal blend with subtle hints of passionfruit and lemongrass this blend contains ingredients traditionally used to assist with fighting hair loss and promoting hair growth. With anti-inflammatory properties to help prevent hair follicles from swelling shut, along with regenerative properties to support prolonging the growth cycle of hair follicles. May also help to reduce dry scalp and dandruff, and reduce hair shedding caused by stress or tension.
__________________________
Both blends are available in retails packs that contain 60g of loose leaf tea or 30 serves.
For as little as 40 cents, offer your clients a delicious cup of trico.lab organic tea. This enables sampling in a relaxed environment and also provides an additional opportunity for a retail sale. It  may just also assist with repeat visitation to your salon too