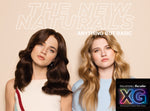 Natural shade selections that are anything but Basic!
Fresh, effortless and never boring, the new Naturals shade expansion for bestselling colour line The Color XG®  is anything but your average brown and blonde tones.
The New Naturals are soft and rich and come in three new beautiful shades.
The Brown Ash gives a cooler result without looking flat or muted.
The Brown Gold is the perfect blend of warmth without the brassiness that often comes with using gold tones.
The Violet Gold is a beautiful combination of cool and slight touches of gold reflection for an almost iridescent vibe.
There's truly something for everyone, AND you can also intermix the shades to create fresh new formulas. 
COLOUR CONVERSATION WITH COLIN CARUSO ARTISTIC DIRECTOR OF PROFESSIONAL HAIR COLOR 
With summer coming to an end, guests are often looking to make blonde hair richer or
go a bit darker for Autumn. What are some of your favourite ways to take your guests darker for the Autumn season?
When I think of fall, I think of rich tones and dimension. Like most colour clients, my guests love being bright and blonde for summer, so it's a nice change to create this richer colour, as it gives both the stylist and the guest a chance to change it up. When I take a guest darker than two levels, I always make sure to re-pigment.
How would you recommend using these new shades? Can you share one of your favourite formulas for autumn?
I recommend using them to create dimension in the hair by lowlighting, refreshing midshaft to ends, giving subtle highlights to the hair and refining the hair after lightening. You can also use them as an all-over colour when a more natural look is desired.
I've been enjoying the new 7BG (7/73) + 10 volume Paul Mitchell® Cream Developer on blondes that I have previously highlighted or lightened. This formula creates a rich, warm lowlight that adds depth without looking too dark. It's a great complement to existing blonde hair.
How do you know what product to use for re-pigmentation? Are you restricted to only using permanent colour? 
The guest's hair is going to be the decision-maker.
If the hair is fragile or porous, I like to use The Demi because I'm not reintroducing ammonia to an already fragile canvas. If the hair is in better condition, then I turn to the color XG® and use a lower developer, which allows it to be more of a deposit-only colour. Opacity is also a consideration when choosing The Demi versus the color XG® or Paul Mitchell® the color. And, of course, I always send them home with Paul Mitchell® colour products formulated to help protect their colour.