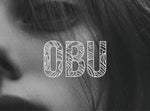 Partner For Life.
OBU handcrafted premium hairdressing scissors now available to all Three Six Five Salon Group clients. With smooth cutting mechanisms and sharp steel blades, every OBU will make each cut and snip a pleasure.
All OBU are backed by a Lifetime Quality Guarantee for workmanship and 7 day returns making your purchase risk free.
With two concise ranges, the OBU MASUTA 'master' Collection, and the MINARAI 'apprentice' collection, OBU caters for different experience levels and budgets.
All OBU MASUTA are crafted from high quality, sharp Japanese steel.
There are 4 models in the range which cover all cutting techniques. The Creator and The Sage are both versatile and adaptable .
The Creator is an all-purpose scissor that allows you to easily articulate your creative vision and self-expression while The Sage's cleverness is in it's design: perfectly balanced and ergonomic.
The Outlaw, another of the MASUTA series is a bad boy slicing scissor that will give you an unfair, almost illegal advantage! With wide end to end weight distribution, the Outlaw will be a meaty addition to your kit.
The Lover, quite simply, are  thinning scissors that you won't want to keep your hands off.
All OBU Masuta scissors are also available in sets offering savings of up to 33%.
The OBU MINARAI 'apprentice' Collection are hand crafted, premium quality scissors for those building their portfolio but still desiring best in class tools.
Comprising of the The Centurion, an all purpose scissor which has the right weight, the right feel and the perfect length of blade for developing skills and techniques, and The Ruler. The Ruler is a thinning scissor designed to give you the ability to control and ensure the right amount of hair is being thinned out with every snip. Also available as set saving you over 30%. 
Small batch production of OBU means limited stock is available. Head to www.OBUscissors.com so you feel the #OBUdifference.