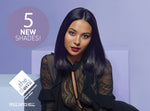 Broaden your palette with new Violet and Blue shades from the bestselling colour line, The Demi. These five hues provide true violet and blue ash undertones, ranging from cool blonde to the richest blue black.
Intermix to create your own unique tone or use alone and experience the beauty of the individual shades - all with the exceptional condition and shine for healthy-looking hair.
COLOUR CONVERSATION WITH COLIN CARUSO ARTISTIC DIRECTOR OF PROFESSIONAL HAIR COLOR  
The Demi is expanding its shade offerings with the addition of the Violets and Blues. What can we expect from these new shades?
You can expect the same shine, vibrancy and consistency you always get from The Demi. These tones are on trend and they work right out of the bottle!
What are some ways we can use the new Violets and Blues with the existing shades The Demi has to offer?
Add them to any shade (except for Muted Metallics) to add coolness and depth to any formula. Get creative and see where it takes you! Don't be afraid to swatch— swatching is key. Also, a capful can go a long way on lighter tones to create innovative new blonde shades.
What other colour trends can we expect to see this year? 
We will continue to see cool, pale blonde tones inspired by nature. Even matte green undertones on blondes will trend.  Salon guests want an element of individuality, but also like the idea of "natural," especially in blondes. Red-brown hybrids will continue to rise. Jade green and metallic blue-blacks will trend at deeper levels. Blues, greys and taupes are still on trend as well, with a balanced palette of colours to avoid looking silver. Lastly, healthy hair is always trending!
How can stylists adapt these trends for their everyday guests?
It's good to be prepared. Swatch formulas to test and be ready for trends before they come into the salon. Nothing is worse than trying to figure out how to do a new trend on a first-time, paying guest. Use your social media channels to attract guests who are willing to wear these new colours and get to work. Practice makes perfect.