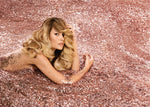 It's time to party. Whether you're looking for easy updo hairstylesl, bookmarking wedding hairstyles or just wanting a fresh holiday party hairstyle for New Year's, we've got you covered. We're rounding up some of our favorite (and very easy-to-follow—we promise!) tutorials for party hairstyles for women below.
How To Create a Wavy Hairstyle with Old Hollywood Vibes:
There's a reason why wavy hairstyles that boast a touch of old Hollywood glamour are a go-to for women of all hair textures. This classic hairstyle is a perfect, polished pick for most upscale occasions. Here's how to easily create a timeless wavy hairstyle:
MUST-HAVES:
 

SECTIONING CLIPS/PINS / CURLING IRON / HAIRSPRAY / A BRUSH
Start with dry hair. Prep hair with

 

Neuro™ Protect HeatCTRL®

 

Iron Hairspray

 

for thermal protection.
Working top to bottom, grab one section of hair at a time, sectioning from the high point of the head to right behind the ear. Using your

 

Express Gold Curl™ 1.5" Barrel Curling Iron

 

elevate top sections as you curl, making sure to feed the ends through the iron. As you finish curling the section and remove the iron, clip your curl in place.
Continue across your head, clipping each curl as you go. As you work down, you can gradually drop the elevation of your iron.
Once you've finished curling, spray clipped curls with

 

Worked Up

 

to add definition and hold.
After curls have cooled and set, unclip them and brush through them with your

 

MarulaOil Classic Dressing Brush, starting at the bottom and working your way up. Finish with a light mist of

 

Stay Strong.
How to Get an On-Trend Braided High Ponytail:
Looking for a fun and fresh hairstyle? Try this braided take on the classic high ponytail for a hairstyle that feels cool and new, while still remaining polished.
MUST-HAVES:
 

A BRUSH / HAIR ELASTICS / HAIRSPRAY
Start with dry hair. Brush hair away from face and secure it into a high ponytail at the top of your head. Secure with four separate hair elastics for added volume.
Take a section of hair and wrap it around the base of your ponytail to hide your elastics.
Split your ponytail into three sections.
Take the right section over the middle section.
Take the left section over the new middle section.
Continue braiding, alternating right and left sides, until about a quarter of your hair remains. Then, secure tightly with an elastic. For a less polished look, pinch small sections of the braid and rub each section between your thumb and index finger to add piecey texture.
Take a section of hair from the bottom and wrap it around your elastic to disguise it.
Grab your

 

Teasing Brush

 

and brush the remaining hair ends to elastic to add a little volume.
Lock in hair with a generous mist of

 

Stay Strong. Add a little luster to your gorgeous braided hairstyle with

 

Awapuhi Shine Spray.
How to Create the Perfect Undone Updo:
We like our updos a little undone. If you need a perfect prom hairstyle or bridesmaid hairstyle, we recommend this romantic and versatile low bun updo hairstyle.
MUST-HAVES:
 

HAIRSPRAY / HAIR ELASTICS / A BRUSH
Take a small section of hair from the front of your head and part it in the middle. Keep the rest of your hair unparted.
Grab small sections of hair from the back, ignoring the parted front section. Using your

 

Teasing Brush, brush each section from ends to root to add volume. Lock in texture with a mist of

 

Extra-Body Finishing Spray.
Pin up the top section of your hair and repeat step 2 with the bottom section.
Pull the bottom section into a low ponytail.
Unclip the top section of hair and tie it into a low ponytail slightly higher than the other ponytail. Add a little piecey texture by pinching random sections of hair and rubbing each section between your thumb and index finger.
Grab both ponytails in your hand at the same time. Wrap them around your hand counterclockwise until they create a messy low bun. Loop any ponytail excess through the center of the bun. Add piecey texture to the bun with your thumb and index finger like before. Pin the bun to secure. Then, lock in your low bun hairstyle with

 

Awapuhi Wild Ginger Finishing Spray.