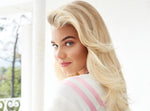 Up your blow-wave Game
Prep:
Wash and condition with Paul Mitchell Extra-Body Shampoo and Paul Mitchell Extra-Body Conditioner.
Lightly mist the scalp with Paul Mitchell Extra-Body Boost, sectioning through as you apply.
Brush through hair with a sculpting brush starting from the ends to detangle and evenly distribute product.
Style:
Pre-dry hair with a dryer using the nozzle attachment to direct hair away from the face to maximise volume.
Using an large round brush, begin at the top of the head; take sections no larger than the size of brush and over-direct each section for maximum volume.
Guide each section through brush as you dry. With a firm tension, start at the base and then work through, focusing on the ends to polish them.
As you complete each section, roll and clip each section with a sectioning clip to lock in the curl you have created while blow-drying.
Work your way down and around, ensuring that each section that you take is directed away from the face.
Once dry, lock in each section with a 1.5″ curling wand.
Wrap each section around the barrel of an 1.5″ curling wand, ensuring to gently tap in the ends.
Re-roll and clip each section to cool after curling.
Allow the set to cool completely.
Finish:
Once cool, remove sectioning clips.
Brush through hair completely with a sculpting brush.
Create a deep side part and dress the hair around your face to your liking.
Finish with Paul Mitchell Extra-Body Finishing Spray
Follow us on Instagram for daily inspirational hair styling! @paulmitchellaus