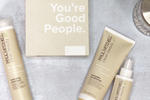 Whether you wash your hair once a day, weekly, or somewhere in between, it's important to ensure you're using the product that's best for you. Some hair care products contain harmful ingredients that can be bad for you and the environment. That's why Clean Beauty is a step in the right direction!
Good for hair and good for the planet, Paul Mitchell's Clean Beauty range is made with the highest level of natural origin ingredients. Our formulas are made with organic botanicals that are grown on a bio-dynamic farm. These ingredients are held to the highest standards, with our commitment to making hair care in a more sustainable way. These cruelty-free, vegan formulas have the clean ingredients you want, without the ones you don't. Clean Beauty is free from:
Parabens
Sulphates
Phthalates
Mineral oil
Diethanolamine
Gluten
These ingredients can be harmful to the environment and cause long-term side effects. When products containing sulphates are washed down the drain, they ultimately end up in our oceans and can be toxic to aquatic animals. The amount of sulphate in products depends on each manufacturer and can range from a small amount and up to 50% of the product.
If too much sulphate comes into contact with your skin, eyes, or mouth, it can cause irritations and may clog your pores and cause acne, especially those with sensitive skin. It is best to avoid them when possible. Eliminating these harmful sulphates helps keep the environment clean and safe for animals, while at the same time being better for your skin and health.
To take it one step further, Paul Mitchell have designed new packaging for Clean Beauty that is 100% recyclable. Made from bio-based plastic, it is derived from sustainably and ethically harvested sugarcane. This helps reduces the amount of harmful greenhouse gas emissions that contribute to climate change. The bottles also feature a new low-profile cap that uses 46% less plastic than the standard Paul Mitchell cap.
For 40 years, Paul Mitchell have lived by the ethos of doing good for people, animals and the planet. Paul Mitchell is committed to making our operations cleaner and greener. Clean Beauty is just one part of our overall pledge to make Paul Mitchell more sustainable.

You can read more about Paul Mitchell's sustainability plans here.