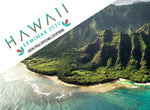 You are invited to experience the Aloha Spirit and celebrate our 40th anniversary at the Paul Mitchell® Hawaii Seminar!
Treat yourself to a five-day Hawaiian adventure, where relaxation, networking, sharing and learning come together to create a memorable, personal and professional experience. This unique, up-close-and-intimate event, hosted by John Paul Mitchell Systems® Co-owner and Artistic Director of Education, Angus Mitchell and featuring his elite team of Artistic Directors, International Educators and JPMS leaders.
Paul Mitchell always felt a strong connection to the Big Island of Hawaii where awapuhi grows deep in the gulches. For centuries, Hawaiian natives have used the fragrant juice of the awapuhi ginger plant to moisturize skin and hair. Captivated by the plant's healing benefits, John Paul DeJoria and Paul Mitchell established a sustainable, solar-powered awapuhi farm in Hawaii in 1983. Their commitment to sustainability and no-animal testing, coupled with ongoing philanthropic efforts to support and protect the planet and its people, has never faltered.
Join us to celebrate the special 40th anniversary of John Paul Mitchell Systems' rich history in Hawaii, where the Aloha Spirit sets the tone for the company's future. Spend the week with our top artists and be the first to experience a new and exclusive artistic collection, along with exciting new product launches to come in 2020! This unique experience features intimate workshops focusing on cut, color, style, business and personal development to refresh you for the new year, and to help generate more business success.
*Space is limited to the first 150 attendees, so reserve your spot NOW!  
WHAT TO EXPECT
Intimate workshops focusing on:
Haircutting and Hair Color – A perfect cut/colour combination incorporating social media, two creative haircuts and one complimentary hair colour technique featuring new hair colour products.

Blonding – Sneak preview! Enjoy innovative, salon-ready blonding and refining techniques with the newest additions to Paul Mitchell® Blonde before their launch in late 2020.

Style – Learn tips and tricks and master editorial insights with an onsite editorial style demo and photoshoot.

Personal Development & Leadership – Discover proven systems for embracing change, while strengthening your personal and professional communication and leadership skills.

Enjoy much-deserved leisure time at the pool, on the beach, doing yoga, or enjoying traditional Hawaiian activities. Explore on your own or hang out with the Artistic Directors, International Educators, fellow salon professionals and the JPMSTM team.

Take an exclusive tour of the John Paul Mitchell Systems® Awapuhi Farm, an off-the-grid, 30-acre retreat, located in Pa'auilo, Hawaii. This self-sustaining, certified organic farm is a natural haven producing all the awapuhi wild ginger in our products.

Celebrate the birthdate of the original professional salon industry renegade—Paul Mitchell. Learn to hula at a traditional Hawaiian evening luau with unforgettable entertainment. Be the first to see our amazing 40th Anniversary Hair Show.
Stay at the incredible Mauna Lani Auberge Resort Collection, a newly renovated multi-million-dollar hidden oasis. And so much more!
WHAT TO BRING:
Please note that all event attendees will need to bring the following to Hawaii Seminar:
Dressing brush
Scissors
Texture scissors
Metal tip/rattail comb
Cutting comb
Clips
Long Hair Styling kit
Cutting Comb
Water sprayer
Color Apron (optional)
Chopsticks (optional)
Notebook
Pen