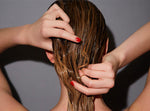 Hair treatments aren't just for special occasions; use them on a regular basis to maintain glossy, healthy hair. Available in many different forms, these deep conditioning masks, lightweight leave-in conditioners and nourishing hair oils are designed to provide the extra care that hair needs as a result of daily heat styling and the environment.
They can strengthen weak, fragile strands, help seal split ends, quench dry, dehydrated hair and more. But how do you choose which one to use? Start with your hair type.
Using the right formula for your specific needs can lead to significant improvement in the appearance and health of hair. While fine or oily hair types should limit the use of hair treatments to once a week, dry, damaged or coarse hair can handle a mask as often as every shampoo.