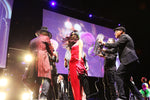 In case you missed all the action we have recapped below the exciting June weekend that was, at the Australian Festival of Hair - Hair Expo. 

With Industry Icons Robert Cromeans and Angus Mitchell joining us from abroad the weekend was a jam packed extravaganza of hair fashion and jam dropping craftsmanship from our Australian and International Education teams. 

Each daily show was an incredibly inspirational exhibit of just how creatively diverse our professional colour range is, and the beautiful cuts and styling that our styling products allow professional hairdressers to create.