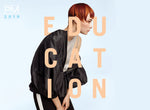 Over the past 12 months we have continued the progressive learning format of our Education Program and are so happy to welcome 23 new members to the Australian Paul Mitchell Creative Team! This is no small achievement as to qualify you need to participate in the full Paul Mitchell Education program which consists of 5 skills. Congratulations to these new members!
Our Creative Team Program has continued to evolve to ensure we stay ahead of trends, techniques and tools. Conducted by our world class Paul Mitchell Educators, we aim for our programs to be salon friendly AND inspirational. We fully understand your daily challenges as stylist and look to offer expert tips to create a seamless experience for your salon guests.
Our core focus this year was on creating undone texture using the skills of cutting, colour and style.
What have some of you had to say about our program?
'Being in the industry from a young age and working with Paul Mitchell the whole time (10 years) I've always felt comfortable in the PM environment, whether it was my first class or my 20th class you walk in feeling like a little family.
The education classes are my favourite!! I love the passion every educator has behind their own career and behind the PM company. I love that we could all just sit down and talk hair for hours as it's everyone's passion.
The classes puts back the fire in your belly and the passion back into your guest and work. Couldn't rave about it more 😍'
- Tania Pellissier – Foiled Again
'As a salon we found the Paul Mitchell education extremely enjoyable. The cutting techniques were easy to follow, they exposed our creative minds to different styles while also refreshing our memory on the basics. We fell in love with the colouring course, we all learnt many different techniques that we now use in salon on a regular basis. All aspects that were shown felt modern, relatable and achievable to continue to practice. We've very grateful for the knowledge we now have and the inspiration we took away from each lesson. Thank you, The salon seventy six team x'
- Johanna Jeffrey - Owner - Salon Seventy Six 
'I've been lucky enough to attend a few of the creative team courses in Sydney. Learning advanced haircuts, colour placement, and learning all the tricks from the pros. Building confidence doing these courses and keeping on trend is a win for me and my salon guests...' 
- Bevan Cremer - Senior Stylist - Streamline 
HAIR EXPO HIGHLIGHTS
One of the year's highlights was working with Paul Mitchell co-owner - Angus Mitchell and Global Artistic Director - Robert Cromeans at Hair Expo 2019. Together with their amazing US-based team they presented some of the latest trends. This gave us local hairdressers a sneak peek at upcoming looks - ensuring we stay ahead of the game! Our dynamic Paul Mitchell global team also featured as a Key Act in the Generation Next evening – an inspirational, high energy show.
A massive thank you to all who attended, plus our Australian Educators and models …we couldn't have done Hair Expo 2019 without you!
SNEAK-PEAK - THE YEAR AHEAD
As we draw to the close of 2019, you may be wondering what's on the program for 2020?
As long-term veterans of the industry, we connect to industry leaders globally and nationally to collaborate and evolve the content of our courses and programs. So our team are currently busy studying trends and trialling formulas to share with you soon.
Our aim is to continuously raise the bar to deliver you education at the highest level in the industry. In 2020, you will see a greater focus on the implementation of best practice technology to support you in the salon as well as in the classroom.
Next year's Education Program will launch in January 2020!
Keep an eye out on our social media and www.365salongroup.com to get dates and details.
THANK YOU
A massive THANK YOU to you and every stylist who is dedicated to being the best you can be -  through continuous education! We are humbled to have you in our classes - you inspire us through your passion to learn, your creativity and talent. We are incredibly grateful to have you participate in our program. Thank you again and we look forward to seeing you in the New Year!
Steph
Director of Education