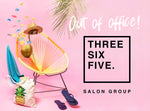 As the festive season approaches, 365 Salon Group would like to remind you that our offices and warehouse will be closed for 2 weeks during the Christmas and New Year period.
We will be closed from Friday 20th December 2019, re-opening on the 6th January 2020.
Please note that to give your orders the best chance of arriving before Christmas, please note the following:
QLD, SA, regional NSW/VIC orders – must be received by end of day on the 18th December 2019
Metro VIC and NSW orders – must be received by end on the 19th December 2019
Our office and warehouse will re-open on Monday 6th January 2020 with any orders placed after the 19th of December to be shipped from this day.