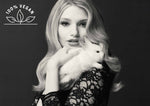 You probably love Paul Mitchell® Professional Colour for many reasons. (Like, 1. How it helps your clients look and feel good  2. It's stance on being Cruelty Free…)
Now, we're going to give you another reason to add to your list: when you choose a Paul Mitchell Professional Colour, you also have the option of choosing from our various 100% vegan professional hair colour options!
Did you know that many Paul Mitchell Professional Hair Colour products and hair care products are 100% vegan? If you choose Paul Mitchell, that means you have a wide selection of vegan hair products to choose from for your salon guests—from permanent colour products like the colour XG®, to our demi-permanent The Demi and balayage favourites like Skylight®.
Have you already been using vegan hair colour products without you even knowing? Our formulas haven't changed but our packaging is changing slightly to make sure you and your salon guest are aware of all our vegan colour offerings.
We know that finding great vegan brands and vegan beauty products can be a challenging (but worthwhile) process. That's why we're trying to make it easier for you to find a vegan colour option that's right for you. 
Not a vegan? Wondering what makes a product a vegan hair product? We'll give you the rundown. A vegan product is one that doesn't use any animal by-products. Non-vegan products can still be cruelty-free, containing humanely derived ingredients, like beeswax, but 100% vegan products opt for synthetic ingredients instead.
Having inclusive options that satisfy all guests' needs truly matters to us. Not only are we proud to offer many vegan hair colour options, but also some of the best vegan hair products across the board. So, after your clients balayage appointment is done, recommend them the best vegan shampoo to protect their beautiful colour!