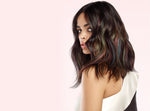 After two decades of success with professional hair colour, the Paul Mitchell global artistic team set out to create a collection that tells a story of where the Paul Mitchell company has been and where it is going.
With Paul Mitchell The Color XG, The Demi and POP XG hair colour, the team created vibrant reds and coppers, soft, muted pastels and creative colour-blended looks.
"Hair colour is in its glory right now," says Colin Caruso, Paul Mitchell artistic director for professional hair colour. "In our 20/20 collection, we tried to look ahead and create colour palettes that utilised natural shades alongside unnatural tones. The balance and blend give the guest the excitement of being unique without the stigma of being identified solely from one's haircolour. We created four on-trend, salon-friendly looks—from balayage to block colour—using real techniques that can generate more revenue for the stylist behind the chair." 
Like a solar flare, this look embodies intensity with flashes of bright copper and rich red, inspiring a passion for short shapes and brilliant colour.  
The look was achieved by sectioning hair with tape, then clipping and cutting on the tape.  
Jewel tones intensify this statement-making head of curls in amethyst.
Utilising an array of soft violet hues, the artistic team designed the shades to harmonize with the model's natural hair texture.
 Using a balayage technique to infuse depth and ribbons of light into the hair, Aurora introduces a muted take on pastel tones.
 Inspired by the natural phenomenon of the Northern Lights, this look is a beautiful balance of restraint and impact.
Photographer: Benjo Arwas  
 Makeup: Iris Moreau
 Fashion Styling: Nikko Kefalas