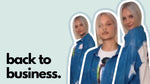 As restrictions ease across the nation, it's time to pick up those foils and bring back the blondes! After waiting patiently (or not so patiently), our lovers of all things light and bright are screaming to get back into the salon. Queue Survivor by Destiny's Child. 


FOILS FOR DAYSSS
Are your clients ready to touch up their roots but too scared to scalp bleach? Achieve those next level blondes with Nikki Ramos' teasey highlight technique.
 Products used:  Synchrolift Plus and The Demi Flash Toners
BLONDE MAKEOVER
Say goodbye to months of regrowth and hello to beautiful, bombshell blondes. Brooklyn Cardenas will help you make all your post iso blonde's dreams come true. 
Products used: Synchrolift Plus and 20 Volume Developer
BANGIN' CURTAIN BANGS
The boys are back and they mean business (at the front and party at the back)! Join Clinton Norris and Lucas Doney as they show you how to perfect some bangin' throwback bangs.  
SNEAK PEEK
Chelsea Sheald is here with the viral haircut of the year! Stay tuned to find out how to achieve the hottest haircut this season...
DON'T MISS OUT
For more tips and tricks from the industry's best check out the 365 Salon Group Education Hub and be sure to follow @365salongroup and @paulmitchellaus on Instagram and Facebook!