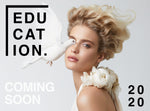 The best hairdressers are the ones who appreciate the value of continual learning. To grow and develop as a hair professional and run a profitable salon; investing in continuous education for your salon team is a must.
This belief is at the core of 365 Salon Group's business philosophy and the key driver in the development of the company's new education offering. For 2020 we have overhauled our education classes to create the most exciting 365 Salon Group Creative Team Program yet!
365 Salon Group Creative Team Program is a multi-faceted, trends-focused course; offering stylists solutions to real life salon challenges and be abreast of current consumer demand.
From on-trend colour and cutting foundation workshops through to mastering the art of colour correction and Blonding , any hairdresser wanting to advance their skill is invited to attend 365 Salon Group Education.
"The best hairdressers know that hairdressing is an ever-evolving art. It's not just a career, but a chance to be challenged creatively. In such a competitive industry, it's important to remain up-to-date with the latest trends, technologies, and techniques.
The 365 Salon Group Education programs are for the salon professionals - owners, managers, senior stylists, apprentices - who want to remain at the top of their game and develop alongside their client's needs, and industry trends." explains Education Director Stephanie Gelston
In a combination of live workshop and access to Paul Mitchell's global online learning platform, the program is designed to teach attendees how to gain or regain the competitive edge, by inspiring them creatively while remaining considerate of salon time constraints. This customizable course focuses on advancing stylists skill set and confidence – creating a salon that is performing at the best that it can be.
If you have decided that 2020 is the year you want to master your chosen craft of hairdressing, we look forward to seeing you at 365 Salon Group Education classes!
Class dates and details will be launched in the coming weeks, so keep your eye on our website, sign up to our newsletters, or speak with your 365 Salon Group Representative to find out more.