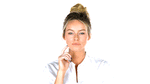 START

1. Begin with hair that's been diffused with added texture.
2. Prep hair with a tinted dry shampoo, spraying at scalp from top to bottom and working back.


STYLE
1. Gather hair into a high ponytail and pull some face-framing tendrils around hairline. Add volume at top of hair by gently pulling on strands.
2. Divide length of ponytail into two sections. Slightly twist hair and loop into a knot.
3. Create another knot with the remaining length. Bring the ends forward and secure with a bobby pin.
4. Pull at strands to reshape and make more chic.

FINISH
1. Complete the look with hairspray.

________________________________________________________________________
SHOP THIS LOOK