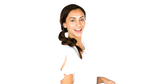 START
Gather hair to one side and secure in a low ponytail just behind the ear.
Use two fingers to create an opening above the ponytail holder and pull hair through to flip to other side for a tucked effect.
STYLE
Apply two pumps of texturizing powder into palm of hand and work through length of ponytail.
Separate ponytail into two equal sections. Cross the sections while twisting in opposite directions.
Continue down the length of ponytail and secure with an elastic.
To add texture, gently tug at the braid. Hold the bottom of the braid as you pull.
FINISH