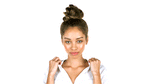 START
Gather hair in a high ponytail. Use brush, fingers or teasing brush to control hair.
Pull a few wisps of hair around hairline.
STYLE
Apply a quick-drying working spray through hair and split ponytail into two sections.
Twist sections together to create a rope braid and secure with an elastic. Gently tug at strands for added volume.
Wrap ends around and pin at base of bun.
Adjust top knot bun to give it shape.
FINISH