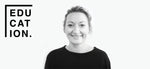 SALON OWNER
J Society
Why did you choose Hairdressing as your career?
My Mum is a hairdresser and I was exposed to the industry from a young age. I loved it. It's ever-evolving, there's always something new to learn and I thrive on that.
What aspect of Hairdressing is your 'area of expertise' and what do you enjoy most about it?
Cutting and consulting. Transforming a client's look dramatically is inspiring and I enjoy talking and working with my clients to help them to understand and embrace these moments.
What do you love about Hairdressing and what frustrates you the most?
I love the places the industry can take you and the different paths it can lead you down. Like most business owners, showing apprentices these opportunities and encouraging younger people into this amazing career frustrates me sometimes. It's hard to compete with higher-paying jobs. But that's more a business frustration than a practical or hands on one.
Who are your industry icons and why?
All the Tognini's. What a family!
What product can't you live without and why?
Tea Tree Lemon and Sage Thickening Spray! I don't go anywhere without it. Ever!!
How do you challenge yourself?
Training and educating. Both in-salon and with the 365 Salon Group education team. Stepping outside your comfort zone is always challenging, but there's a lot of personal growth when you allow yourself to be vulnerable.
Why did you take the steps to become an Educator for 365 Salon Group?
I think this is answered in the above question for me. It was an opportunity to work with other industry professionals and challenge myself professionally and personally. I am very passionate about hair and love sharing it with like-minded hairdressers.
What are the most important things to your salon and the Hairdressing industry?
Passion and Education!
Tell us about your salon.
I am blessed! J Society is an amazing coastal salon with a team that's not only talented but now all family. My sister and I have built a space and clientele that is more than we could have imagined. Paul Mitchell has given our staff (and both of us) amazing opportunities and both our salon and barbershop are thriving because of it. It's fun to go to work every day and even better sharing the days with friends and family.