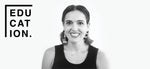 Technical Educator
365 Salon Group

Why did you choose Hairdressing as your career?
My mother was a hairdresser so I was always around hairdressing. I loved the people, energy and how you can change people's look to make them feel fabulous.
What aspect of Hairdressing is your 'area of expertise' and what do you enjoy most about it?
I love Colour. But now as an educator I enjoy helping future professionals understand colour and how to get predictable results.
What do you love about Hairdressing and what frustrates you the most?
I love all aspects of hairdressing and think it a great career.
Who are your industry icons and why?
Couldn't pick one… as the industry is ever-evolving! 
What product can't you live without and why?
Freeze and Shine Super Spray. The way it holds the style in place but can be completely brushed out with no residue.
How do you challenge yourself?
I always love learning new things.
Why did you take the steps to become an Educator for 365 Salon Group?
I love helping people find their craft!
What are the most important things to your salon and the Hairdressing industry?
The community in the industry and support we can lend each other.