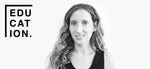 SALON OWNER
J Society
Why did you choose Hairdressing as your career?
Having grown up around the industry with a mum as a hairdresser it was always something I was interested in. Plus, I love being creative.
What aspect of Hairdressing is your 'area of expertise' and what do you enjoy most about it?
Over the years it has changed. My focus use to be cutting based, but the last few years I have really enjoyed the direction colour has gone in the industry and have found this to new direction has increased my colour creativity.
What do you love about Hairdressing and what frustrates you the most?
I love the environment we get to work in, we make positive impacts on our guests lives and I love as a business owner providing careers for the new generation. What frustrates me the most is other people's perception of hairdressing as a career.
Who are your industry icons and why?
All of the Tognini's, they are bloody legends! But my biggest icon is Sandy Chong. She works her butt off every day to raise our industry standards, making sure we all have a bright future.
What product can't you live without and why?
Paul Mitchell Ultimate Wave.... without it I would look a mess. But on my guest's I love Extra Body Thicken Up, its fab to blow-dry with and gives some guts to longer lengths.
How do you challenge yourself?
I have 3 kids, 2 businesses, and a husband who works FIFO..... my life is challenging enough.
Why did you take the steps to become an Educator for 365 Salon Group?
I've always loved educating and being educated. I feel sharing my knowledge is a must.
What are the most important things to your salon and the Hairdressing industry?
Apprentices. Any salon wouldn't run without them and they are the future of our industry.
Tell us about your salon.
My sister Sarah and I have both been lucky to work for some amazing salons in Brisbane and Sydney. We wanted to bring that level of service to our guests and training to our staff. Part of J Society's mission statement is ' To make everyone feel welcome and a part of our community. Our culture and our creative talents will attract like-minded followers and it is here we will watch our society grow'.