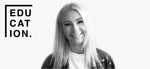 SALON OWNER
Jessica Anne hair
Why did you choose Hairdressing as your career?
My grandma was a hairdresser, it's what I wanted to be since I was a little girl.
What aspect of Hairdressing is your 'area of expertise' and what do you enjoy most about it?
I enjoy blonding the most! Traditional foils, balayage, foiliage, anything that involves lightener, a tail comb and a box of foil.
What do you love about Hairdressing and what frustrates you the most?
I love being able to make people feel beautiful. I love getting to talk to so many different people from so many different walks of life. What frustrates me the most about hairdressing is when clients don't show up to their appointment…and definitely when the client takes the comb to part their hair!
Who are your industry icons and why?
Larissa Love for her transformation and technique videos. Gina Bianca for her podcasts and technique videos. Emma Chen styling and hair ups.
What product can't you live without and why?
SYNCHRO LIFT!
How do you challenge yourself?
Setting goals and targets for the day, week, month and year.
Why did you take the steps to become an Educator for 365 Salon Group?
I love learning other stylists' techniques and as an educator, I get to share my own using my favourite go to Paul Mitchell professional products.
What are the most important things to your salon and the Hairdressing industry?
Client comfort and satisfaction, making sure they are well looked after while in our salon. Using good quality products and also educating clients on their own hair, including home hair care.
Tell us about your salon.
We have a beautiful studio in Caulfield South, Melbourne. We've been there for a little over one year now which is how long I've had my own business for. I'm a one-woman show but I work alongside my previous employer, Jacqui, who took me through my apprenticeship. In our studio we stock Paul Mitchell Professional Products and only use PM take-home products. We have the most gorgeous salon guests, we love our little space and the atmosphere that we've created in it.