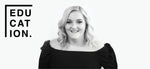 SENIOR STYLIST
Cameo Rose Hair Boutique
Why did you choose Hairdressing as your career?
I originally came into hairdressing as school wasn't the right thing for me. I'm very grateful that I instantly fell in love with it and found my passion ignite.
What aspect of Hairdressing is your 'area of expertise' and what do you enjoy most about it?
Blondes, colour correction and consulting. The creativity and ability to bespoke all guests colours as well as educating them on maintaining their styles and colours at home.
What do you love about Hairdressing and what frustrates you the most?
I love the salon environment, working in a team and helping stylists excel. Also meeting new people and helping my guests in any way I can.
Who are your industry icons and why?
Honestly, I respect every stylist that I meet. There is always something to take away from any encounter or conversation.
What product can't you live without and why?
Paul Mitchell Boomerang Spray because it's so versatile with many ways to utilise this product and I love how the hair feels after you have used it.
How do you challenge yourself?
I like to solve problems so I really dig deep into my consultations to figure out what my guests are really struggling with and guide them in the right direction.
Why did you take the steps to become an Educator for 365 Salon Group?
So our future generation (and existing) stylists have the support and knowledge they desire to become the best stylists they can be.
What are the most important things to your salon and the Hairdressing industry?
The guest's journey, educating our guests as well as upskilling and keeping relevant to the trends
Tell us about your salon.
I work in a boutique, busy salon in Brisbane.